news2021/08/27
Outline of 4th SKIPC Announced!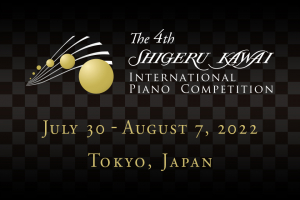 Kawai has announced the outline of the 4th Shigeru Kawai International Piano Competition.
The final round is scheduled to take place on August 6, 2022 at Shibuya Cultural Center Owada "Sakura Hall" in Tokyo.
Information will be updated on this official Competition website.
Online Application for the 4th SKIPC will open from October, 2021.
We look forward to receiving your applications!